By San Janesch
Baltimore Sun – Published: Oct 27, 2023 at 7:08 pm
In a fanfare-filled gathering more akin to a college pep rally than the launch of a governmnet-run jobs program, Gov. Wes Moore on Friday announced the inaugural class of his signature public service program for mostly younger, recent high school graduates. 
The booming sounds of the University of Maryland's marching band and cheerleaders kicked off an initiative that – while starting with 280 participants this year – Moore has talked about growing to become a major state-backed program, one available to every graduate in the state and a model for others to replicate across the country.
"You all are the trailblazers who will define a generation," Moore told the crowd of hundreds, including the participants wearing matching red shirts, at the university's campus in College Park.
Aiming to both fill gaps in the state's workforce and inspire young people to work in public service, the program has two pathways: one for those within three years of high school graduation or of similar education, and one for other adults who are between jobs or higher education.
Participants in both pathways started this week and are in the process of being matched with one of more than 100 nonprofit organizations, for-profit businesses or government agencies that applied to host them.
They will work full time for a minimum $15 hourly wage, which is either fully or partially covered by the state, depending on the size and host organization type. Participants will also earn a $6,000 state-funded stipend if they complete at least nine months of work.
"This has all just been a great honor," said Charles Richardson, Jr., a 19-year-old from Prince George's County who said he'll be working for a University of Maryland program that helps veterans get resources and employment.
Richardson, who said his mom saw the notice and asked him to apply, said he was looking forward to the opportunity to network and work in an area he's passionate about. Others said the program gave them a chance to land a job they wanted but were unable to get.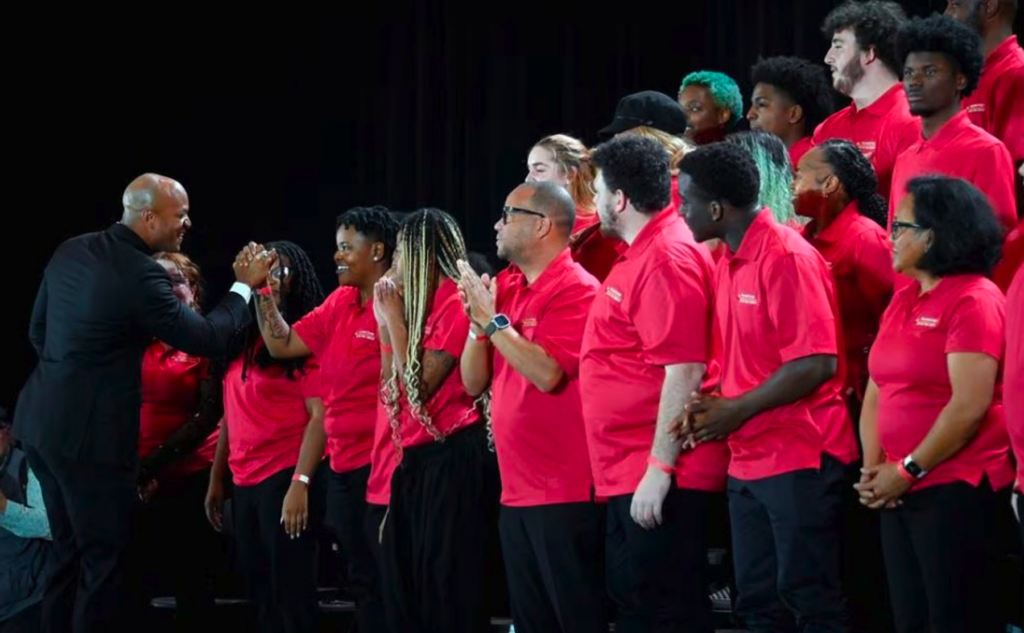 "It definitely helps to fulfill my future goals," said Truth Burney, 23, an aspiring lawyer and recent Howard University graduate who had been applying for legal assistant positions and now will be working in that role for the Community Law Center, a nonprofit law firm in Baltimore.
Nonprofits represent 60% of the host organizations while the smaller portions are government agencies and small to large corporations, officials said.
One of the larger corporations is Baltimore Gas and Electric, which will host three participants working in roles such as community engagement, said Alex Nunez, a BGE senior vice president.
"We see this as an extension of work that we do every day in terms of workforce development," said Nunez, whose company is partially picking up the tab for the workers' salaries. The state will pay the rest.
Among the entire first-year cohort, most are in the service year pathway for recent high school graduates. Officials were required to fill at least 200 of those positions this fall under the law creating the program that Moore sponsored in his first legislative session.
Taking into account both pathways, 70% are 25 years old or younger. About 60% are Black and half don't have any college credits, officials said.
They come from 19 of the state's 23 counties and Baltimore City.
Moore, who talks frequently about how his early years in military school inspired his pursuits in public service, has said he wants the service program to be as common an option as immediately going to college or into full-time work.
Under the law he sponsored, the number of participants is set to increase every year, to at least 2,000 starting in 2026.
The pool of potential candidates could be far greater. About 60,000 high school students graduate every year in Maryland, and about 10,000 of them don't immediately go to college, the military or full-time work.
"This exceeded a lot of expectations," Moore said after the event, referring to the interest from more than 500 applicants.
"But we also know that we have a big problem to solve and … we're committed to making sure that we're going to get the resources to make that happen."