The effort is a key step toward one of Gov. Wes Moore's signature campaign promises: To eventually create a pathway for every recent high school graduate.
By Erin Cox
October 27, 2023 at 7:35 p.m. EDT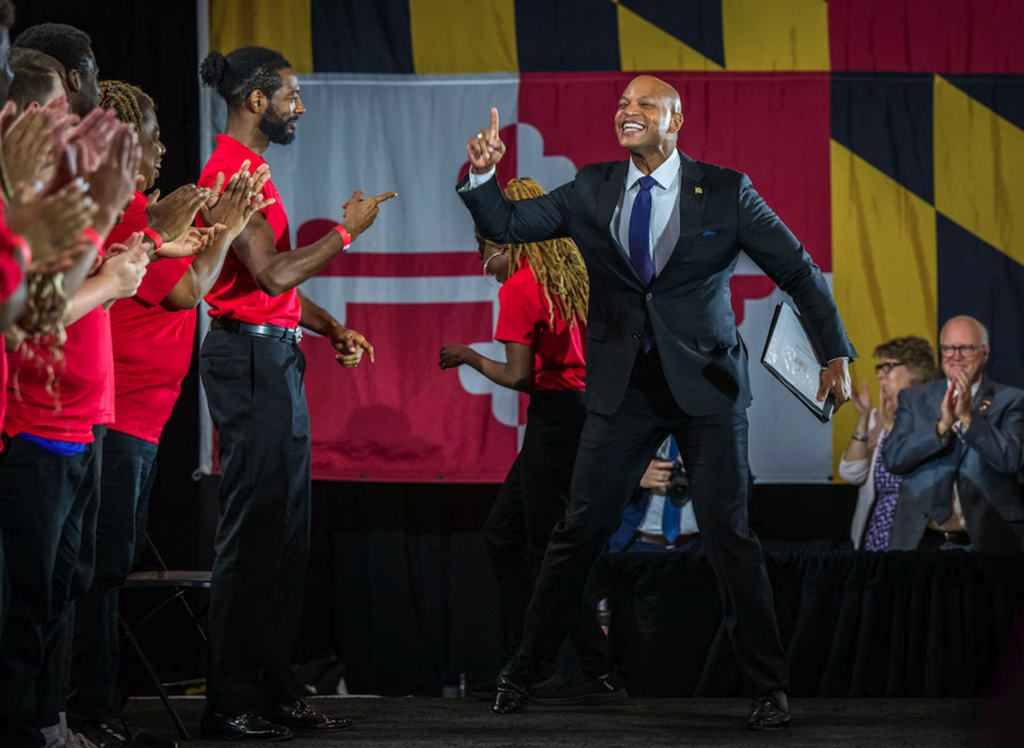 Before the pomp even really began, Maryland's inaugural class of Service Year members wore broad smiles and streamed past red-lipped cheerleaders with pompoms to celebrate the country's first state-run service year program.
Some will work with legal aid, others in after-school programs for Baltimore City teenagers. Service Year members will work with nonprofits doing environmental work, with huge corporations such as BG&E and in scores of other roles tailored to their interests, state officials said.
The effort is a key step toward one of Democratic Gov. Wes Moore's signature campaign promises: to eventually create a pathway for every recent high school graduate to spend a year in the workforce in jobs that serve the greater good.
Participants in this year's pilot program will earn at least $15 an hour and receive a $6,000 stipend for finishing the program, which state officials hope to expand to 2,000 people per year within four years. Service Year members also receive job and financial literacy training, mentorship and career counseling.
"What's important about Maryland is it's allowing us to innovate," said Michael D. Smith, chief executive of AmeriCorps, the federal agency for service and volunteering that gives Maryland $20 million per year. Standing outside the event, Smith said "the nation is watching" Maryland's experiment with a state-backed option to funnel willing high school graduates into service-centric paths.
Inside the Armory, a color guard presented the American flag to a crowd of several hundred. A 20-piece band in full regalia blared as the participants — mostly young people in their late teens or early 20s sporting red polos that said "Service Year Option" — assembled to hear top Maryland leaders praise them. The participants had already completed about a week of orientation at the University of Maryland's flagship campus in College Park.
"You are the first wave of showing us a better way, showing us it's still possible to see the humanity of all people, even across differences," said Paul Monteiro Jr., Secretary of the Department of Service and Civic Innovation, a new Cabinet-level post Moore created shortly after his inauguration.
Monteiro told the crowd a key piece of the program is "recognizing the value that each person has, the talents that each of you bring that we're going to refine over the course of this service term to give all of you a tangible way to build a life and find your power through service."
Employers pick up some of the tab of the weekly wages, and the state pays for others through either grants or tax dollars. A legislative analysis estimated the entire new department would cost $16.4 million in the current budget year.
Moore focused his State of the State speech on the value of service to bridge political divides and frequently says "service will save us" during public remarks. During a speech that lasted more than 15-minutes, Moore laid out lofty goals for the program: "We will build civic bonds. We will restore a spirit of community. We're calling on all our fellow Marylanders to get to know each other again."
Truth Burney, 23, said she graduated from Howard University with a prelaw major, but wasn't landing any of the paralegal or legal assistance jobs she applied for. Now through the Service Year option, she's working at the Community Law Center in Baltimore, helping with legal-aid cases.
"Fresh out of college, I didn't really have a work background in legal work, and I believe this will allow me to get those jobs I wasn't getting before," she said.