Published 10/27/2023 5:48 p.m. EDT, Updated 10/27/2023 6:53 p.m. EDT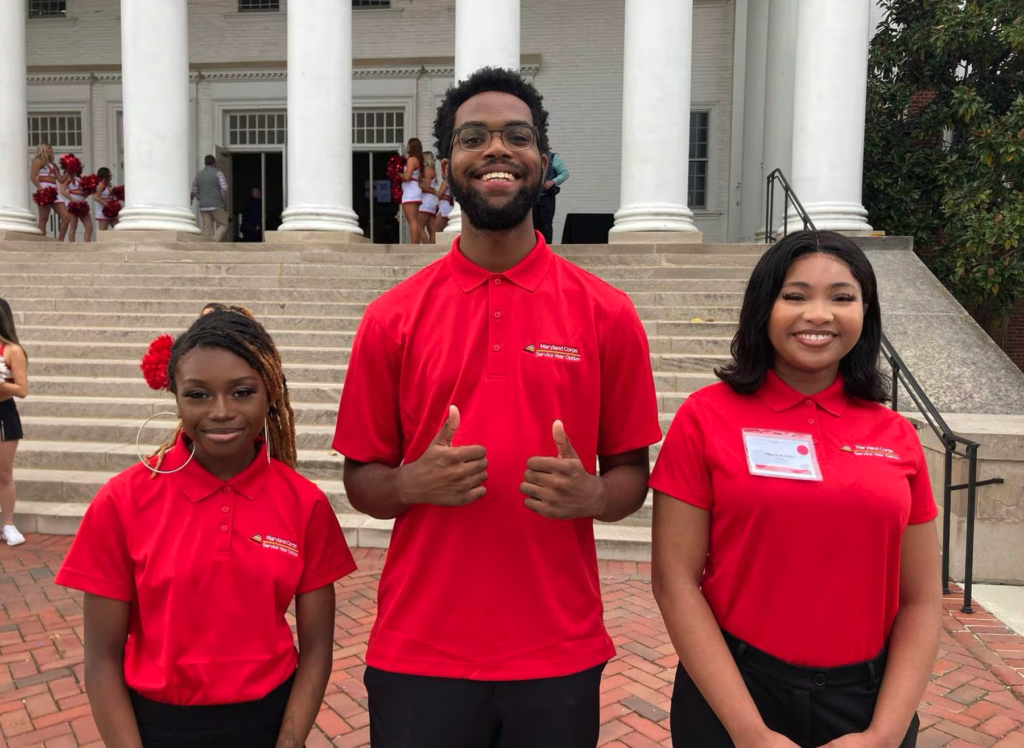 Maryland Gov. Wes Moore frequently repeats his belief that public service is integral to the community, and on Friday, he celebrated the launch of his signature effort on that front: a paid, yearlong service program for Marylanders.
During a splashy ceremony at the University of Maryland, College Park that featured inspirational speakers, rousing songs from the university marching band, and pompom-shaking cheerleaders, Moore welcomed about 280 participants into the Maryland Serves program.
"You are the ones who, because of your service, you're not just going to make you better, you're going to make all of us better," Moore, a Democrat, told the participants. "The entire state owes you a huge debt of gratitude for saying yes."
The program has two tracks. The Maryland Corps program, which was already on the books but never put into service, welcomes Marylanders of all ages; and the Service Year Option, for young people recently out of high school.
All participants are paid at least $15 per hour for full-time work for a year at government agencies, nonprofit organizations or mission-oriented for-profit companies. At the end, participants are awarded a $6,000 stipend in cash or a college savings account. The money comes from a combination of state dollars and contributions from the employers that host the participants.
State officials hope to grow the program to at least 500 participants next year, and ultimately to 2,000 participants.
"The pilot cohort, they're going to teach us a lot, and I'm excited to see how they help shape the program and make it as relevant as possible for their needs and also the needs of their host site employers," Paul Monteiro, the state secretary of service and civic innovation, told reporters.
Meet three young people who joined the inaugural class.
Truth Burney, 23, Community Law Center
Truth Burney studied pre-law, international affairs and political science at Howard University, but struggled to find a job in the legal field after graduation.
"Fresh out of college, I didn't have a work background, especially in legal work," she said. "I believe that with this, this will better prepare me to get those jobs I was applying for."
The Carroll County resident joined the Maryland Corps track of the program and was connected with the Community Law Center in Baltimore, which provides legal representation for nonprofit organizations and community groups. As a legal assistant, she's been combing through documents and doing research to help build clients' cases.
Burney hopes her work with the Community Law Center will give her a strong foundation as she prepares to apply to law school in the future.
Charles Richardson Jr., 19, Initiative for Veteran Lifelong Leadership
After interviewing with multiple potential employers, Charles Richardson was matched with the Initiative for Veteran Lifelong Leadership, housed on the University of Maryland's College Park campus.
The initiative helps military veterans transition into civilian work. Richardson participated in Junior Reserve Officer Training Corps during high school in Prince George's County, so he already has some familiarity with the military.
"I just have a lot of respect for those who served and I think that they, post-deployment, are a very underserved community," he said.
Richardson said he likes working on a university campus.
"I think it will definitely give me a lot of opportunities, so that way I meet the right people and hopefully grow and be able to move on further in my career," he said.
Bri Whitehurst, 19, Parks and People Foundation
A graduate of Catonsville High School, Bri Whitehurst recently realized that she'd like to work in education. She's particularly interested in helping young people who have struggled with learning loss due to disruptions during the first years of the coronavirus pandemic.
"I want to help bridge that gap," Whitehurst said.
She's been assigned to the Parks and People Foundation in Baltimore, where she'll help with an afterschool environmental program.
"We're pretty much teaching them about building better environments. Getting them to hop on and be interested in different projects, such as nature-related things, park life. … getting them involved in the nature side of the community," Whitehurst said.