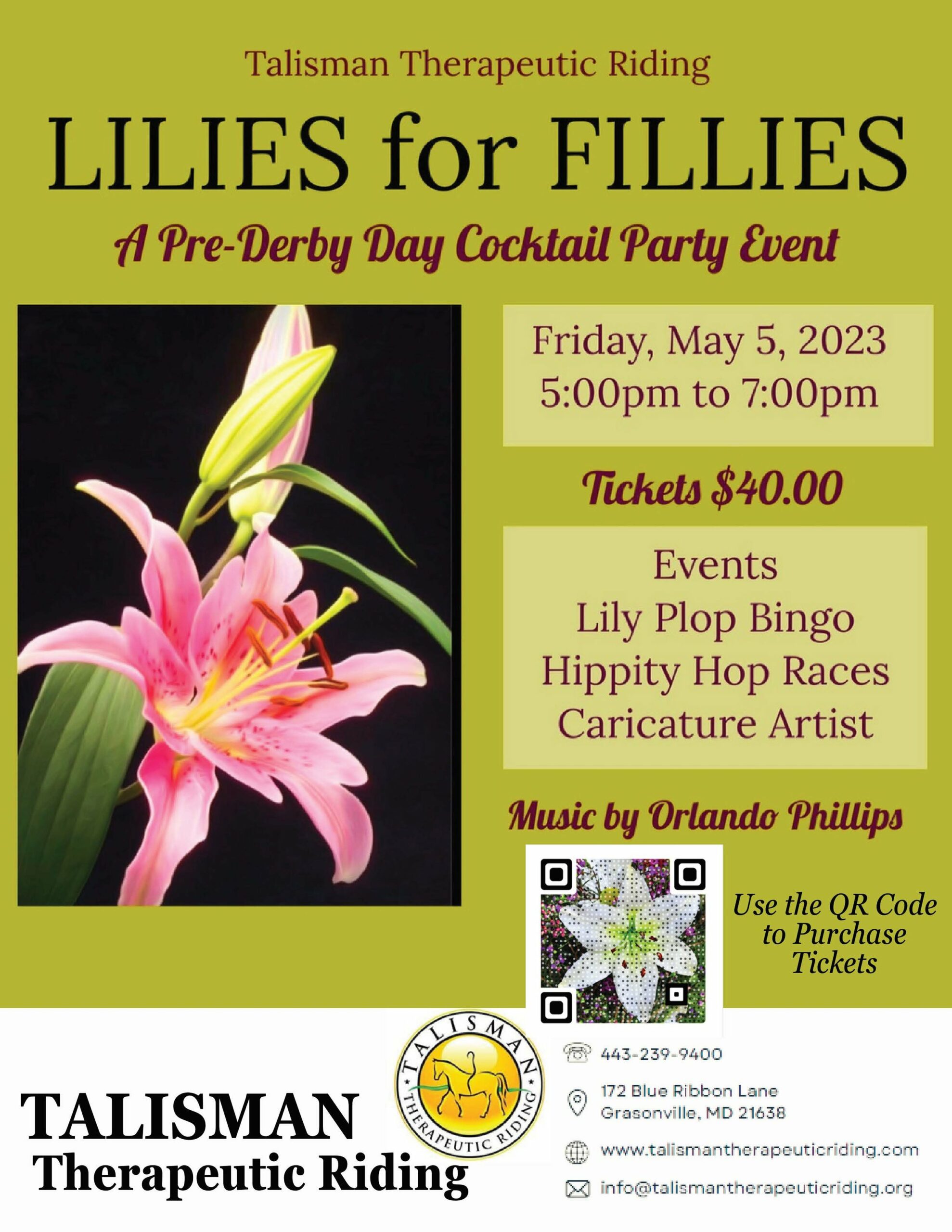 Lilies for Fillies and Lily Plop Bingo
Talisman Therapeutic Riding has been celebrating legacy of horses through its annual Derby Day Event. This year, Talisman is elevating the event with a cocktail party on Friday, May 5, to commemorate the Oaks.
The Oaks is all about the ladies. It is known for an exciting race day, but equally unabashed celebration of all things pink, fashion, and its commitment to raising awareness for the fight against breast cancer.
The Derby is known as the Run for the Roses, but the official flower of the Oaks is the Lily. Just like the Derby has its official drink (the Mint Julep), the Oaks has The Lily! Join us toasting our fillies, with a Lily!
An evening of fun-filled festivities honoring the fillies is planned at Talisman! Join us for cocktails, Caribbean music, caricature drawings, hippity hop races, and … the feature event… LILY PLOP BINGO!
As a separate item – Buy your tickets now on the Talisman website for Lily Plop Bingo – plopping will occur during the event on May 5! One ticket gives you an opportunity to win up to $2,500.
__________________________________________
Talisman Therapeutic Riding
Lily Plop Bingo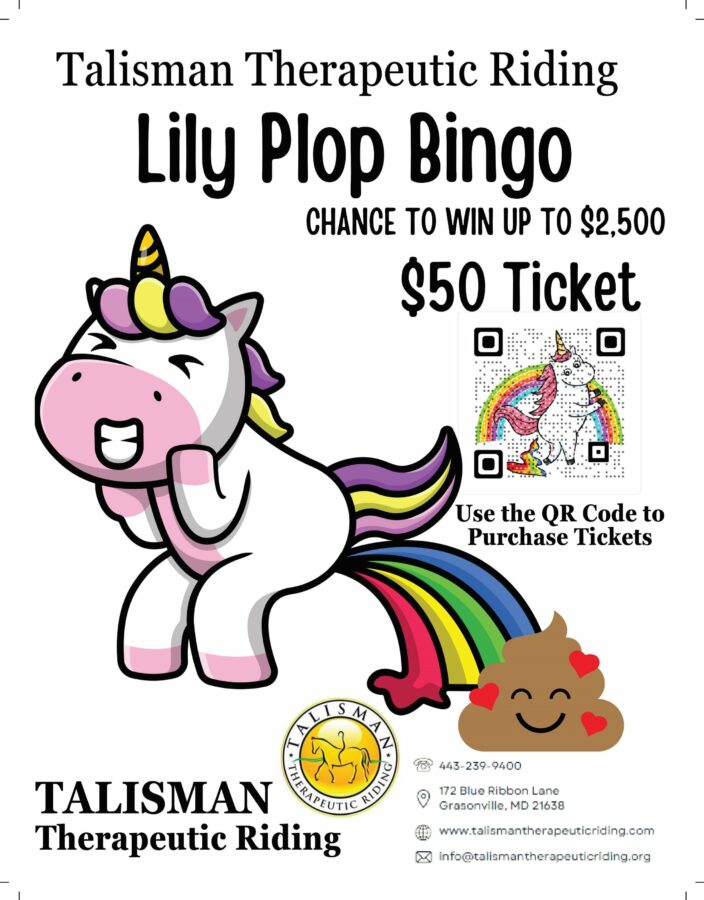 One ticket gives you the chance to win up to $2,500!
The rules are simple:
· A plop is defined as when the horse poops.
· The Talisman outdoor arena will have a grid of 100 squares
· Each ticket is $50, and up to 100 tickets will be sold.
· There is no limit to the number of tickets an individual, or group, can purchase based on ticket availability.
· If not all 100 tickets are sold, prize money will be apportioned based on the revenue collected from ticket sales.
· The squares are randomly assigned through a blind selection process on May 4, the day before Lily Plop Bingo is played.
· The plopping occurs during the Talisman Lilies for the Fillies Event, on May 5.
· Square assignments will be displayed outside of the indoor arena during the Lilies for the Fillies Event, on May 5.
· At 5:30 pm, a Talisman horse will be led into the outdoor arena, release to freely roam the entire arena, and remain in that area until a plop occurs.
· If a plop does not occur by 6:45 pm, a ticket will be randomly drawn to decide a winner.
· The winning square will be determined by where the first nugget of manure hits. Judges will have a final say of the winning square.
· By purchasing a ticket, the customer agrees to all the aforementioned rules.